#
Monday marked the one year anniversary of my web-comic "Fifteen". (This is probably my twelfth year or so of making comics in some form? I'm kind of scared to compare this to the first time I tried to go daily sophomore year of high-school… This is the end of this parenthetical:)
I started the comic after a cool friend told me a weird image they have of brainstorming (they imagine a hand coming out of their head to grab ideas). I stole that and made it into a joke. I did another comic the next day and then 144 other comics over the next year. I had been about to explode but then I had something creative to do, so things were kind of alright.
Here are some thoughts/philosophies I'm putting here mostly for myself, since, you know, the internet's pretty much got everything figured out and doesn't need my help.
Treat everything as practice. Talent is really just creating the structures for daily improvement and following through on it. When you write a joke or draw a cartoon, you are doing it so that the next joke or cartoon is better. Do your best and do it as often as possible.
Sit down, do the work, and have confidence that something will happen. Especially during the first few months when I was doing the cartoon daily, I knew that if I tried to write something I would succeed (eventually). Sometimes it took a few minutes, sometimes it took a few hours, I just had to put in the time and keep spitting out ideas. Even if I wasn't always happy with the final cartoon I could always at least find an idea that I found funny. There is something funny in everything if you keep digging.
(Fun Fact: I named the thing "Fifteen" because I wanted to trick myself into believing I would only devote fifteen minutes to it a day. Maybe one of the comics took that long? The rest took anywhere from a half-hour to three hours, probably more with writing time. The video ones took two to three days.)
If you're not doing anything, you're not doing anything well. If you want to create something, don't let the fear of it being bad stop you. There's something worse than "bad", and that's "not actually existing"—so just make your thing and get it out into the world. More often than not, it will be better than expected and you will become stronger.
I've been thinking about comedic voice a lot lately. Have one. Anyone can write a joke—try to write the jokes that only you can write. Follow the things that you find the funniest. Love things and turn them into other things. Don't try to conform your sense of humor with what you think people want to see. Have opinions and a viewpoint.
Thanks to everyone who has been supportive, it really means a lot to hear that people (that sounds like a TON of people, maybe I should just say 'persons'—even one person supporting is amazing) like what I'm doing. There have been a lot (again, a lot to me. Not so many in internet perspective, but that's alright, yo.) of nice comments, messages and reblogs that have made my heart sing. (The takeaway: I need to get in the habit of telling all the amazing creative people whose work I stalk that I think they're geniuses. Creative people need to hear it.)
I wish this was a better blog post. Here's a painting of Claude Monet wearing a Canada shirt for no reason. I made it for someone awesome a few months ago. (I hope she didn't throw it away!)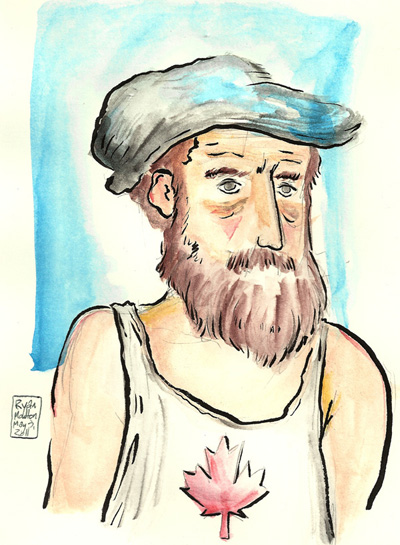 Links: Fifteen: A web-comic / Some of my favorite Fifteens to get you started / I'm on twitter but I'm bad at it.
perlstein reblogged this from rymo and added:

mine, Ryan Moultan, posted...nice little inspiring thing he wrote